The next  PAW cloud upgrade is occurring Wednesday night June 21st
The link to the changes is below
What's coming next in IBM Planning Analytics 2.0.88 SC
The link to the Defect resolution is below
ibm_fixlist_planning_analytics_workspace_2088_sc.pdf
Changes which have caught my attention in the latest version 2.0.88
Deprecation notices
Classic cube viewer to be removed from Planning Analytics Workspace 2.0.90
As of Planning Analytics Workspace 2.0.90, the classic cube viewer will be removed from Planning Analytics Workspace.
Any existing classic cube viewer will be converted to a new experience cube viewer when first opened in Planning Analytics Workspace 2.0.90.  GQ comment – I am not sure whether existing classic views in books will be affected
Changes in Books and Reporting
Synchronise widgets at a group level
You can now synchronize widgets (explorations, visualizations, synchronization tiles, selector widgets, and websheets) at the group level with group synchronisation.
Previously, you could set the scope of synchronisation at the book or sheet level only.
You can start by creating a synchronization group in book properties.
In edit mode, click
Under Synchronization, click Create and manage custom groups.
Click Createto create a group.
Enter a name and description for the group, and click Create.
Click Apply Changesto finish creating the group.
You can now add widgets to your group. Select a widget in your book and under Properties > Synchronization > Synchronization group, select the group you created. Repeat this process for all the widgets that you want to assign to the group. Widgets in the group are now synchronized together.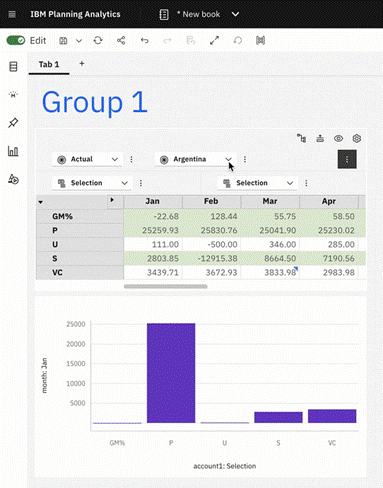 Changes in Plans and Applications
Duplicate applications and plans with attachments
The duplication feature in Applications and Plans now supports attachments. When you duplicate an application or plan, any attachments in the original now automatically copy over to the duplicate. Attachments are also duplicated when you duplicate a section in Applications or a task in Plans.  Use the link above to get more details.
Changes in Modelling
Use the subset calculations on the Context section of a view
The subset calculation feature in the cube viewer is now available for dimensions on the context section of a view.
To create a subset calculation, click the Options menu on a context dimension, then click Subset calculation options.
To learn more about subset calculations, see Add a subset calculation to a view.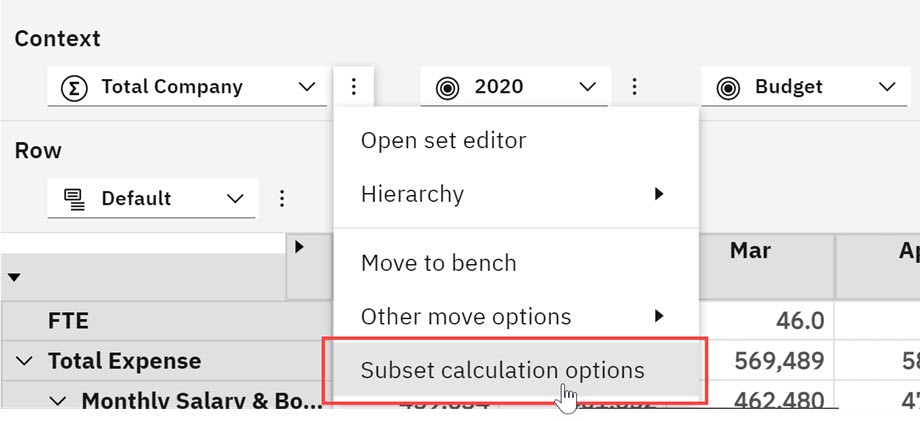 Use the new experience dimension editor in books
The new experience dimension editor, which was previously available only on the modelling workbench, is now available in books.
To edit a dimension in the new experience editor, right-click a dimension on the Databases tree, then click Edit dimension
The classic dimension editor remains available in books. Right-click a dimension, then click Edit dimension (Classic) to edit a dimension in the classic editor.
When you save a book with the new editor, you can reopen the book and retain your editor preferences in the same state as in the classic editor.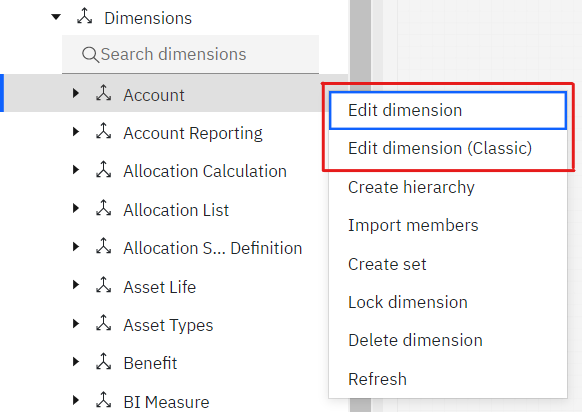 Access process error logs from the Databases tree
You can view or download process error logs from the Processes node on the Databases tree in a modelling workbench.  This saves having to go back to the Administration screen
On a modelling workbench, expand the database where you want to examine process log files.
Right-click the Processes node, then click Error logs.
The Process error logs page displays all available logs, identified by Process name and Date created. You can click a column heading to sort the list of logs.
Select the individual log that you want to examine.
Click View to view the log in a temporary viewer or click Download to download the error log as a text file.
Changes in Administration
Temporarily pause thread or activity refresh
A new Auto refresh option on the database page controls automatic thread or activity refresh. You can use this option to pause the refresh when you want to examine database activity without being interrupted by updates.
In Planning Analytics Workspace Local and Planning Analytics Workspace on Cloud, the option is available on the database Threads tab.